Important Note
A Drug Access Navigator can identify if a patient support program is available for your drug treatment, and how that program may be involved in your care.
Many pharmaceutical companies offer some form of access or support for new products. The types of support offered varies widely and is at the discretion of each company. There is no legislation or requirement that states a pharmaceutical company must provide free access or financial support for their product. Most companies offer support as a way of ensuring their products that have been approved for sale in Canada reach those who need them most at the appropriate time in their treatment plan.
Traditionally, pharmaceutical companies in Canada offered samples to allow patients to get started on a drug, or had a process where a physician could make a one-time request for free drug supply for a patient in a unique situation, when no other coverage was available (called a "compassionate drug supply"). These types of support still exist today but are no longer a common practice in cancer care.
Instead, pharmaceutical companies offer broader "patient support programs" that provide an array of support services.
What is a Patient Support Program (PSP)?
A patient support program (PSP) is a set of privately-operated services designed to support you in taking a drug. The program is developed and paid for by the pharmaceutical company that makes the drug. There is no charge to you for patient support services. The services offered through a patient support program are meant to complement the cancer care you receive at your hospital or clinic.
What types of services are provided by a PSP?
It depends on the drug product and the types of services chosen by the pharmaceutical company. All PSP services are designed to help you access a drug in a timely manner and support you while you take the drug, but the availability of services varies. Services may include:
Temporary Supply – provides a short supply of free product while you await coverage on your plan
Financial Assistance – helps with leftover costs after your drug plan coverage has been processed
Nursing Services – provides education, follow up calls, or appointment coordination
Pharmacy Services – coordinates drug shipment, dispensing, delivery
Clinical Services – provides drug administration (e.g. infusion or injection), lab services, etc. if needed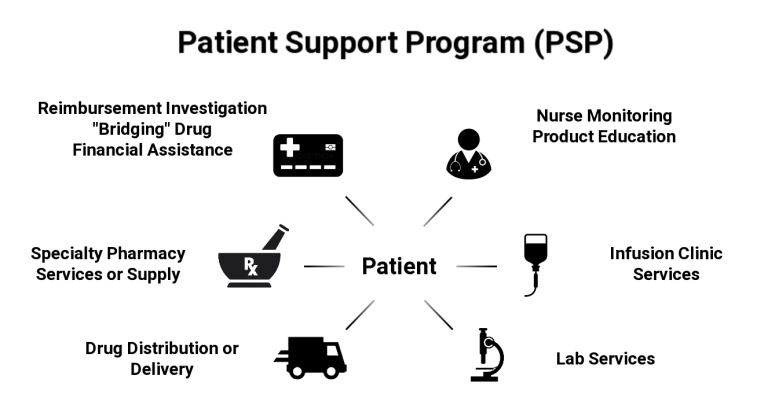 Who provides PSP services?
Most pharmaceutical companies hire private specialty service companies to deliver patient support programs on their behalf. The staff of these specialty companies are not hospital employees and are not publicly funded. They are trained and certified to provide the services you require for that specific drug product. They may work in tandem with your cancer care team, your oncology drug access navigator, and your insurance provider.
How do I enroll in a Patient Support Program (PSP)?
If a PSP is available for the drug product you need, your health team will talk to you about the program and the services it offers. It is your choice to enroll in the program*. You will need to provide your signed consent to be enrolled, and the oncologist or hematologist will have to verify that they are your physician and provide confirmation that a prescription has been written for that product.
You may be asked to complete and sign an enrollment form in clinic that the staff will send to the PSP on your behalf, or you may be given a card to take to a pharmacy. In some cases, you may be asked to enroll in a PSP on-line when you get home.
What happens after I enroll in a PSP?
It depends on the PSP and the whether you need to start a drug product right away. Most programs will contact you by phone within 1-3 business days to welcome you to the program. PSPs are not allowed to display their caller ID or leave a message until you are fully enrolled, so keep in mind that calls will display as "No Caller ID" or a 1-800 #.
After the welcome call, you may be asked for your insurance or drug plan information. The program may ask you additional questions to verify your diagnosis or other clinical information. The PSP staff will usually then follow up with your doctor on any required paperwork and set up other services as required (e.g. pharmacy services, clinic services). How long you are on the program and how often you speak to the PSP staff will depend on the program. When you no longer require your drug therapy, your enrollment in the PSP will end and your file will be closed with that PSP.
How is information shared between the hospital and PSP?
The PSP staff work collaboratively with your oncology drug access navigator and health team by phone or email. Information is shared only as it relates to coordinating PSP services. You provide consent to the sharing of this information at the time of enrollment. The staff members of the PSP do not have direct access to your health record.
What if I do not want to accept PSP services?
The PSP is not obligated to provide services to you, nor do you have to accept services you do not wish to receive. Keep in mind however, to access any of their services, you must be enrolled in the PSP. You can discontinue a PSP's involvement at any time, but if you do, ensure you inform your hospital care team that referred you to the program.
Are you a Health Care Professional?​